Alexander Nizov, PE
Vice President and Senior Partner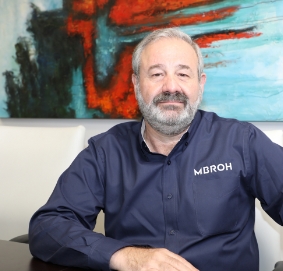 Alexander Nizov, PE
Vice President and Senior Partner
Alexander Nizov joined Mbroh Engineering in 2009 as a Partner and Senior Engineer, bringing to the team expertise in engineering design, a stellar reputation, and a long history of putting his skills to work nationwide for water and wastewater treatment facilities and industrial, federal and commercial projects.
His 40 years of experience includes the design of power distribution and utilization systems; electrical and instrumentation design; project and business management; project planning, estimation and reporting; and construction management and inspection oversight. An undisputed expert in managing and overseeing the completion of large-scale electrical design projects, his activities at Mbroh also include providing pre-design electrical assessment to clients and conducting QA/QC for every project. Alex has been recognized for serving as Project Manager for electrical and redundancy improvements at the Wilson Creek Regional Wastewater Treatment Plant for NTMWD that was awarded the 2022 Engineering Excellence Award from ACEC Texas and a 2022 National Recognition Award from ACEC National. Additionally, he has presented at regional conferences, including Texas Water, on this innovative project.
Alex graduated from Chuvash State University in Russia, where he earned his degree in Electrical Engineering. He is a Registered Professional Engineer in states across the U.S., including Texas, Arkansas, Arizona, Colorado, Connecticut, Oklahoma, Ohio, Michigan, Florida, New Mexico, North Carolina, New Jersey, Louisiana, California, Idaho, Illinois, Indiana, Iowa, Kansas, Missouri, Mississippi and Pennsylvania. Alex is also an active professional member of the Institute of Electrical and Electronics Engineers (IEEE) and Water Environment Association of Texas (WEAT).