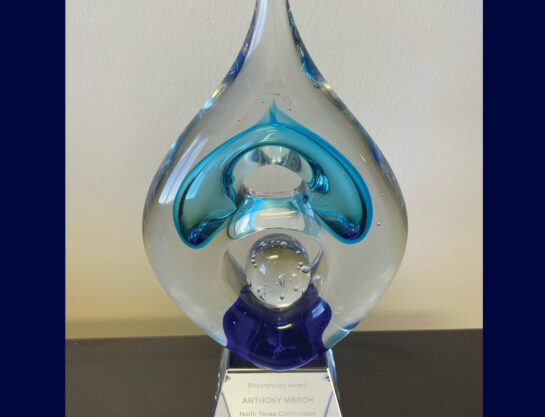 Anthony Mbroh Honored with Philanthropy Award from North Texas Commission
On September 13, 2022, the North Texas Commission hosted their 51st Annual Members' Luncheon at the E-Sports Stadium in Arlington, Texas. Headlined by American Airlines CEO Robert Isom and Fort Worth Mayor Mattie Parker, the event was attended by hundreds of regional business leaders across Texas.
At the event, the North Texas Commission announced nine individuals and corporations as recipients of the 2022 Regional Leadership Awards. We are pleased to announce Anthony Mbroh, PE, President of Mbroh Engineering, Inc., as the 2022 recipient of the Philanthropy Regional Leadership Award.
As stated in the North Texas Commission's press announcement, "Anthony Mbroh, PE, is an advocate and a leader who has devoted his time to supporting various North Texas non-profit organizations over the past 25 years. Tony's philanthropic endeavors include mentoring disadvantaged students, donating his time to help small businesses grow, and supporting the ongoing education at the University of Dallas."
Congratulations to all the 2022 Regional Leadership Award Recipients and thank you for your dedication to improving DFW region.
Navigate to PR Newswire for the full, official release from the North Texas Commission and view the full video and photo gallery from the event on the North Texas Commission's website.