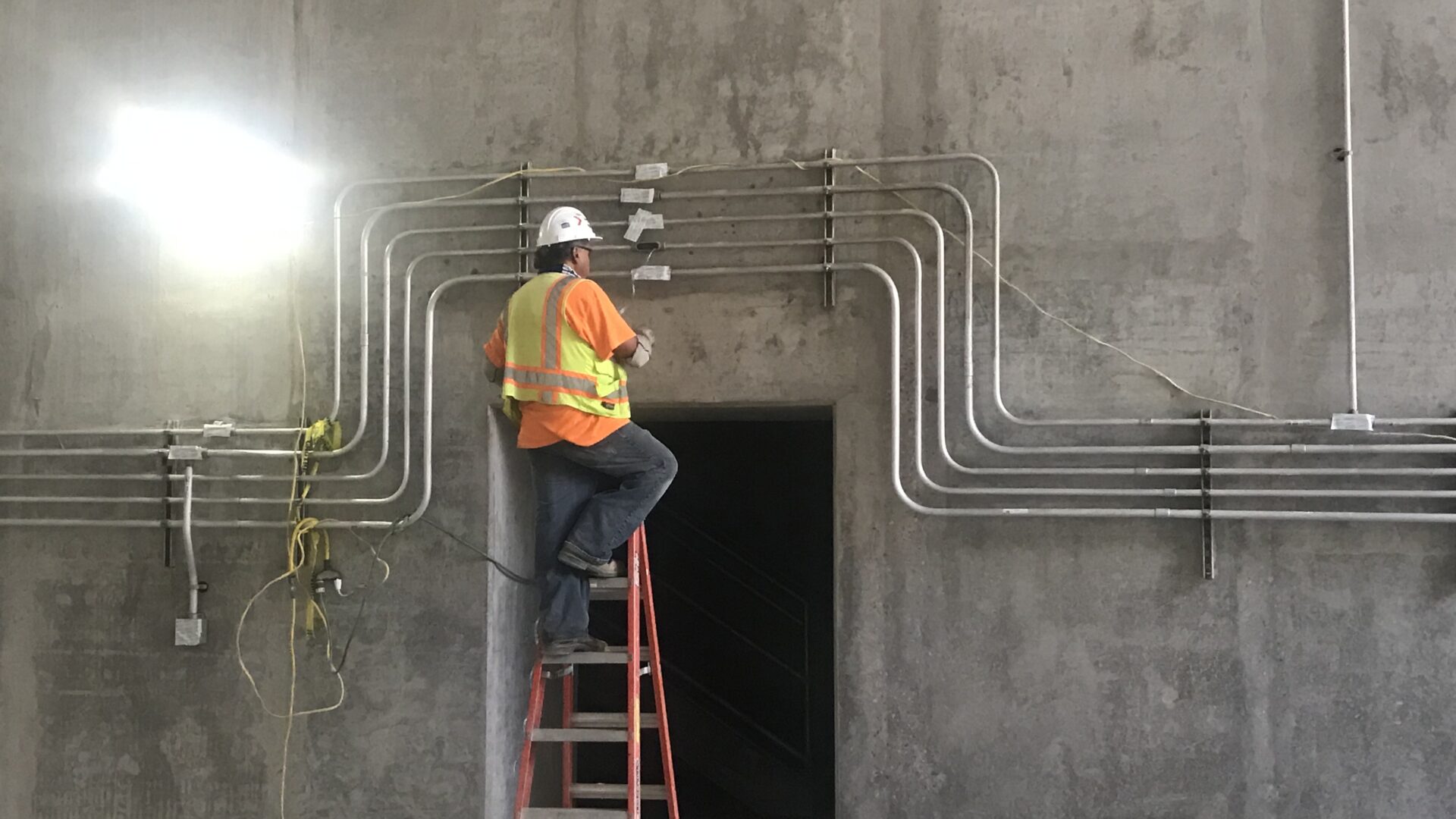 Commercial Mechanical/Electrical/Plumbing (MEP)
Mbroh's offering of Mechanical/Electrical/Plumbing (MEP) services is an extension of the firm's specialty electrical expertise. Our team's technical knowledge translates into a robust offering of MEP services for new facilities and existing spaces. Whether packaged as a combined service offering or as an isolated project, our MEP services extend to industrial buildings, commercial complexes, data centers, and terminals in the port and aviation industries.
Our technical team provides a specialized set of electrical engineering and design services for power, lighting and security needs within multi-building complexes. We also provide a fine-tuned list of mechanical, HVAC, ventilation and plumbing services to keep operations on track and running smoothly. Mbroh has the capabilities to provide all of these services plus the project management to guide projects from planning and design to construction and completion.
Mbroh's MEP solutions are a vision-turned-reality as we expand our technical reach with complimentary service offerings. As a testament to our field experience, read more from our team:
Mbroh's projects regularly interface with MEP aspects such as lighting, fire alarm, fire protection, and building power distribution. Mohammad Behrang, Senior Project Manager at Mbroh, explains that the majority of Mbroh's electrical and I&C projects include MEP aspects or process piping, "Each component of engineering has its challenges," he says. "Mbroh's highly qualified staff with extensive background experience provide the path to success in all projects."
Mohammad has worked on MEP project components of varying scales for his entire career. His perspectives of MEP came about through his work as an Electrical Engineer on large-scale, international residential and industrial facilities. For the United States Air Force, his engineering and management project work included heavy MEP interfacing in lighting, fire alarm, fire protection, piping, conduits, HVAC, and water supply and distribution. Further, during his management of extensive and complex Oil & Gas projects overseas, Mohammad further expanded his industrial MEP experience in aspects such as power plants, compressors, fuel lines, and duct bank systems.
Corey Rosenthal, Quality Assurance Manager in Mbroh's Houston office, has extensive international logistics experience in Oil & Gas. His management and strict adherence to time restraints and budgets lends a keen eye to Mbroh's project reviews and implementation plans.
Specifically, for the City of Houston Northeast Water Purification Plant (NEWPP) Expansion Project, Corey led the Mbroh team in constructing a workshop/office building from the ground up, including pre-construction site work, permitting, and approvals. Components of the project included mechanical, electrical and plumbing coordination. Mbroh is providing electrical engineering and programming work on the overall project – a $1.77B water plant expansion from 80 to 400 MGD, the largest progressive design-build project of its kind in the U.S.
For Luis Cortes, Senior Project Manager in Mbroh's Dallas office, MEP experience includes commercial, industrial and healthcare facilities as well as transit lines. In addition to his extensive knowledge of MEP systems, his expertise is also present in building, fire, and life safety codes in the United States and abroad. During his career on a large variety of projects, many with quick turnaround, he's dealt with site adaptations to meet changing field conditions and earned the confidence of clients through his understanding in meeting code requirements for the successful completion and delivery of projects.
For projects abroad in Mexico and Bangkok, Luis has stepped in as interim project manager to troubleshoot and successfully lead projects to completion with cost friendly and beneficial schedule solutions. In many instances, Luis overcame language barriers, cost overruns, supply shortages and complex installations.
Our capabilities Include:
Overall Services
Mechanical
Electrical
Plumbing
Security Controls
Fire Alarm & Fire Protection
HVAC & Ventilation
Building, Fire & Life Safety Codes