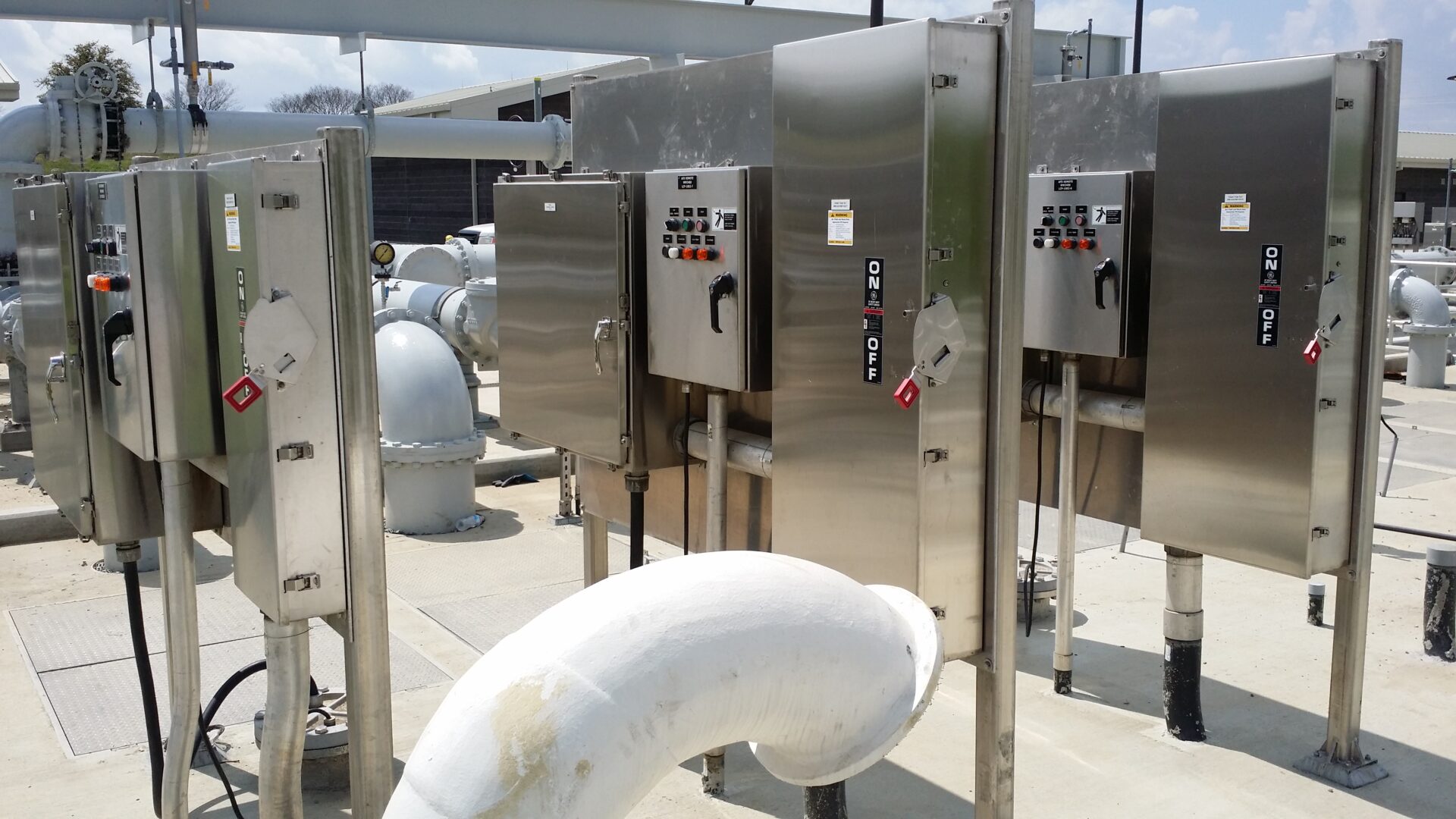 Instrumentation & Controls Engineering
Our Instrumentation & Controls Engineering experience ranges from the design of conventional field instrumentation to Supervisory Control and Data Acquisition (SCADA) programming and integration.
While building on the latest technology, we check that your system meets existing process, business, and scalability needs. We'll customize software for your operation by tailoring process graphics, user interfaces, databases, control strategies and reports. We also incorporate equipment and software training to help your team manage the system before project completion. Whatever your requirements or preferences, Mbroh's depth and breadth of experience enables our team to anticipate and resolve questions before they impact schedule, budget or quality.
Our design team specializes in I&C for water, wastewater, commercial, industrial, petroleum, transportation, and power generation processes. Whether integrated with a complete SCADA and process control system or planned as a standalone system, you can count on Mbroh to design a telecommunication network that's cost effective, robust and reliable. Our expertise also includes integrated voice, video and data communication; LANs, WANs, fiber optic and microwave radio transmission systems; MAS and packet radio; satellite; and license applications.
We Dial into System Security for Ease of Monitoring and Heightened Protection
Mbroh's services also extend to the security of plant operations – both physical protocols and cybersecurity recommendations. Network enhancements for software and control systems used to remotely monitor and manage municipal water system go beyond basic software systems – Mbroh's customized approach is unique and offers an increased focus on training, awareness and cybersecurity protocols. This includes American Water Works Association (AWWA) security assessments for risk, resilience and emergency response plans. All of this results in additional protection for municipal drinking water systems.
Our staff's expertise in physical and cyber security provides a unique offering to municipal facilities. Senior Project Manager Roger Williamson, PE, and Shannon Looper, Controls Specialist, offer perspective:
"More than just security related to the safety and accessibility of physical media and persons who could enter water plant sites, we are also addressing security requests from a cyber perspective," noted Roger. "Cybersecurity for Instrumentation and SCADA systems that operate on multiple networks follow specific standards but now face increased assessments to determine and reduce vulnerabilities to water plant operations and associated distribution lines to our communities," added Shannon.
By addressing measures that safeguard physical access and network vulnerability, these combined security services provide water operators with continued ease of operation plus protection from outside vulnerabilities – all resulting in an interwoven critical infrastructure that is more secure.
Our capabilities Include:
Component Design
Field/Process Instrumentation
Control Panel Design
PLC/RTU/HMI Design
Network Design
Fiber Optic Backbone Design
Microwave Radio Systems
Radio Towers and Antennas
Licensed/Unlicensed Radio
Programming
Piping and Instrumentation Diagrams (P&ID) Development
PLC/RTU/HMI Programming
Construction Services
Submittal Review
RFI Review
Construction Progress Monitoring
Factory and Field Test Witnessing
Documentation and O&M Manual Preparation and/or Review
Preparation of Record Drawings
Quality Assurance
Control Strategy Description
Process Control System Standards
Cyber/SCADA Vulnerability Assessments
Internal and External Network Vulnerability Testing
SCADA Testing
Network Security Policy Review
System Design for Security
Security Master Planning / Program Management
Enterprise-Wide Security Policy Development
Network Security Architecture Design
Access Control Policy Development
Vulnerability Remediation
Security Systems Configuration and Deployment
Cybersecurity Awareness Training
Network Segmentation Limiting Access to Mission Critical Networks
Recommendations on Proven Network Equipment and Implementation
Cybersecurity Maintenance
Network Hardware Software Patching/Updates
Network Vulnerability Testing and Remediation
On-Call Network Consulting and Support