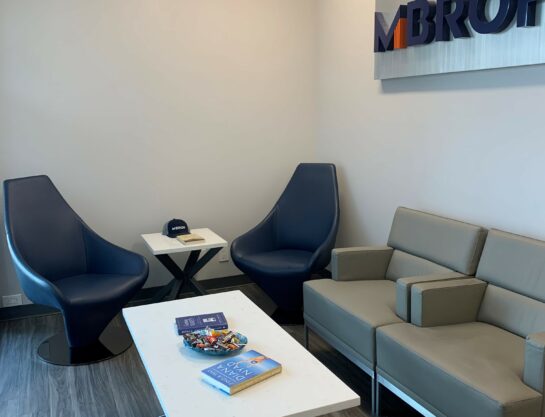 Houston Office Expands, Complements Cybersecurity & Transportation
In April 2021, Mbroh Engineering, Inc. (Mbroh) expanded its Houston office with additional office square footage, a sevenfold increase in available space, allowing for expansion of the company's operations within the Greater Houston area.
Timing of the Houston expansion also coincides with the company's rededicated focus on cybersecurity services and addition of transportation services, including the metro rail transportation segment. Anthony Mbroh, PE, President of Mbroh Engineering, recently led a panel discussion on Cybersecurity of Critical Infrastructure at an industry summit in Texas with hundreds of business and water industry leaders in attendance.
"The expansion of the Houston Metro area requires a continued investment by local leaders in several major infrastructure initiatives that include water, wastewater, cybersecurity and transportation," said Anthony Mbroh, Founder & President. "Mbroh Engineering's expanded Houston office provides the space to grow our team as we work hard to assist the region with its overall growth strategy. We are thrilled to be a member and partner within the Houston community, and we are proud to provide quality jobs and excellent engineering and consulting services for the region's critical infrastructure needs."
Mbroh provides a wide range of services in the area, including planning, design, programming, electrical engineering, Instrumentation & Control (I&C), SCADA, and construction services for the City of Houston's water plants, wastewater facilities and storm water operations.
Currently, Mbroh's team is providing professional services for Houston's Regional Water Supply Program, a multi-year, multi-agency effort to use surface water in lieu of groundwater as its main drinking water source and sufficiently provide treated water to customers across north and west Houston. Overall, Mbroh is providing professional engineering services on all three of the program's core, groundbreaking projects – Northeast Water Purification Plant (NEWPP) Expansion Project, Surface Water Supply Project and Luce Bayou Project – and, as a result, the company's successful partnering efforts were featured last year by the City of Houston's Office of Business Opportunity.
Mbroh's professionals in Houston are active in numerous professional associations, including the Houston Chapter of the American Council of Engineering Companies (ACEC TX) and the Houston Chapter of the Society of American Military Engineers (SAME).
Mbroh's new Houston office is located at:
11757 Katy Freeway, Suite 625
Houston, TX 77079
You may reach out by calling: 713.468.2545