Sam Moosavi, PE
Resident Engineer and Inspector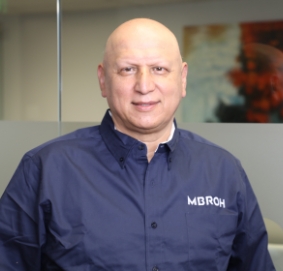 Sam Moosavi, PE
Resident Engineer and Inspector
Sam Moosavi has more than 26 years of experience specializing in construction management and design of water, wastewater, and stormwater treatment facilities. He is extremely skilled at leading on-site inspection and construction management personnel and providing inspection guidance to third-party construction business partners. In Sam's role as a consultant leader, he is particularly gifted at efficiently managing the project schedule and budget in order to minimize design cost over-runs and change orders.
For over 10 years, as an employee of Mbroh Engineering, Sam has served as a trusted and essential on-site strategic partner for many of Mbroh's clients. As a consulting partner, Sam is responsible for verifying the project's design approach and ensuring that each design element is implemented consistent with industry electrical code requirements at multiple water and wastewater facility sites. His knowledge of engineering design and construction phases allows him to effectively review drawings, specifications and owner comments while also providing strategic analysis and improvements during the 30%, 60%, 90% and 100% design process.
Sam possesses a bachelor's degree in Electrical Engineering from the University of Texas at Arlington plus a bachelor's degree in Aeronautical Engineering from St. Louis University. He is also a registered Professional Engineer in Texas.