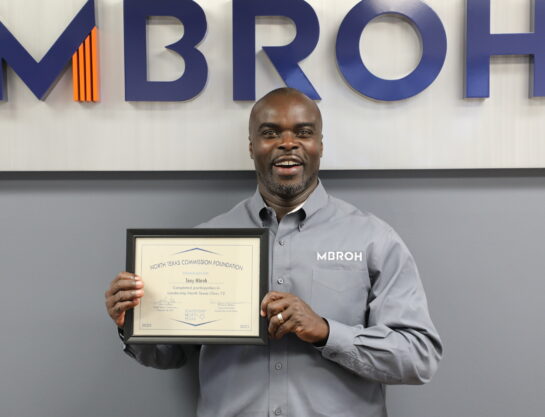 Mbroh Congratulates the Graduating Class of Leadership North Texas
North Texas has a new group of graduate leaders thanks to Leadership North Texas (LNT). Sponsored by the North Texas Commission, LNT hosts an annual program for graduate-level leadership development aimed at supporting the region's top leaders through collaborative learning experiences. Participants benefit from LNT by increasing their perspectives and skills as regional stewards to civic engagement, education, economy, equity and environment, to name a few.
The 2021 Graduating Class (also called LNT 12) included 28 participants from various sectors such as government, business, nonprofit, environmental, neighborhood, education, faith and labor. Leaders participated in group discussions, field trips, presentations by skilled facilitators and interactive sessions. Tony Mbroh, PE, President & CEO of Mbroh Engineering, was among the graduating class.
"Leadership North Texas provides an avenue for community stewards to share, grow and learn from one another," said Tony. "From my involvement over the past year, I have benefited by gaining a broader perspective of relevant issues within our region. The relationships I've made with my fellow LNT 12 classmates and LNT Alumni has expanded my civic responsibilities by having advocates for making our region a continued place for prosperity, diversity & inclusion, and a high quality of life for all."
The graduating class faced challenges during their year as LNT participants due to COVID-19 protocols and transitioning to virtual class sessions. However, the group continued to meet regularly and check in on one another during the pandemic's challenging conditions. To conclude the year, graduates attended an in-person retreat at the Lake Texoma Training and Development Center in mid-August 2021.
More information on LNT can be found on their website.