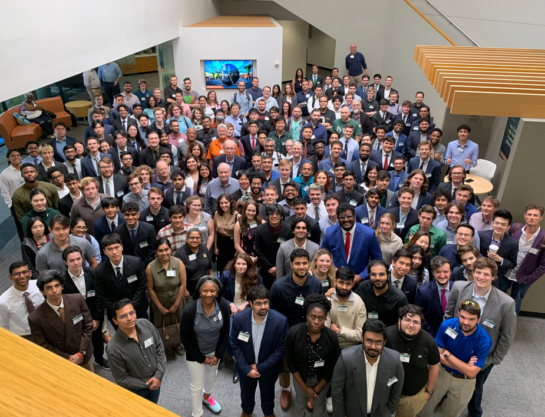 Mbroh Judges Senior Electrical Engineering Design Projects at UT Dallas
It's an exciting time for college seniors across the nation who are graduating with professional degrees after years of hard work. At the University of Texas at Dallas (UT Dallas) seniors of the Electrical and Computer Engineering Department presented their design projects at the UTDesign Expo on Friday, May 12, 2023. Mbroh Engineering is pleased to continue partnership and support of the Erik Jonson School of Engineering and Computer Science with our own Luis Cortes serving as a judge at the event.
As part of the judging panel, Luis evaluated projects for electrical engineering students who first gave a three-minute presentation of their design and then fielded questions from judges. After team presentations, Luis visited the lab where seniors showcased their work, and he was also invited to graduation the following day. Thank you Luis for representing the Mbroh team!
To all graduating UT Dallas Comets and seniors across the nation, your future is bright! Best wishes as you graduate and begin your professional careers!