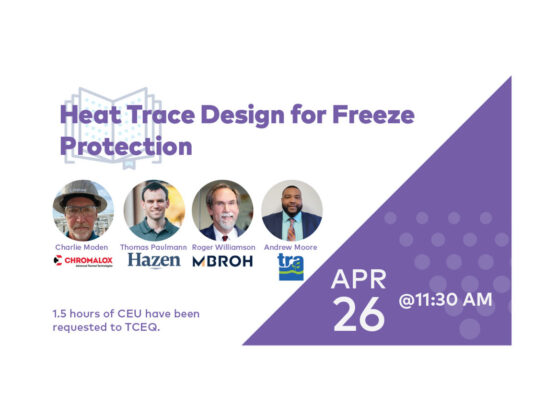 Roger Williamson to Speak, Mbroh Engineering to Sponsor Upcoming North Texas WEAT April Seminar
On April 26, 2023 at 11:30 a.m., the North Texas Section of the Water Environment Association of Texas (North Texas WEAT) will host an educational seminar covering heat tracing for water treatment plant operations. The seminar, Heat Trace Design for Freeze Protection, features four industry leaders who will speak on the effective application and operation of freeze protection via a case study of the Trinity River Authority's (TRA) Denton Creek WWTP Heat Trace Improvement Project. Speakers include: Charlie Moden, Chromalox; Thomas Paulmann, Hazen; Roger Williamson, Mbroh Engineering; and Andrew Moore, TRA. Attendees will receive 1.5 CEUs for the event. Registration is complimentary for WEAT members and $85 for non-members.
For more information and to register, visit North Texas WEAT's Event Page.