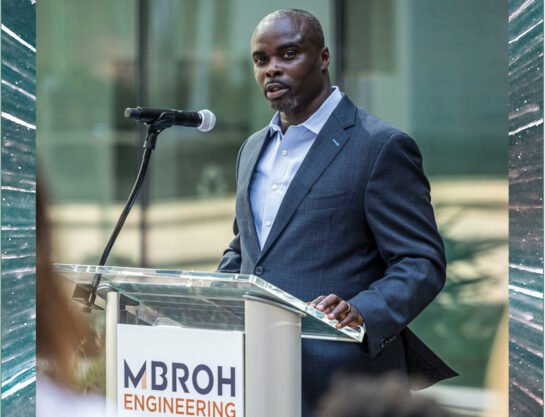 Anthony Mbroh Named 2023 ENR Texas & Louisiana Legacy Award Winner
On Friday, November 11, ENR Texas & Louisiana named Anthony Mbroh, PE, President of Mbroh Engineering, as the region's 2023 Legacy Award Winner. The program serves to recognize industry veterans with long lists of contributions to their profession and community.
Judges from all ENR regions utilized weighed criteria, including each nominee's history of innovation, career highlights and an engagement within the industry and the surrounding community. Tony is the ninth annual recipient of the award. Judges applauded his accomplishments in the engineering industry as professional consulting firm owner, leadership and volunteerism in engineering and community associations, mentorship of students and small business owners, and establishment of the first endowed scholarship at The University of Texas at Dallas to benefit future engineers in the Diversity Scholars Program.
Read more in ENR Texas & Louisiana's award announcement online.
Read the full feature article published in the Feb. 13 issue by ENR Texas & Louisiana: Engineer Mbroh Keeps Working to Build a Brighter Future.