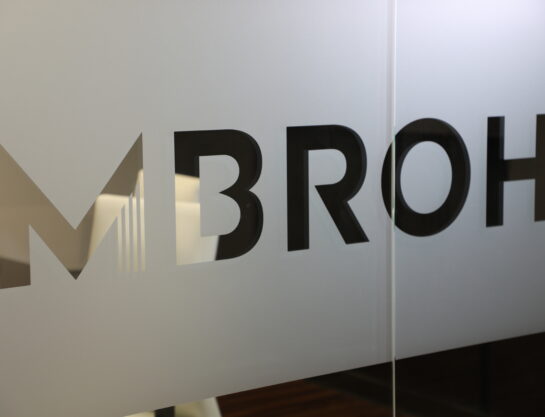 Mbroh Expands HigherEd Involvement at UT Dallas Through Multi-Level Support of Future Engineers
In a continued effort to expand interest in the engineering field and support engineering scholars with practical, real-world experience, Mbroh Engineering is proud to support The University of Texas at Dallas (UT Dallas) on numerous levels.
During the Summer of 2020, Mbroh created the first endowed scholarship for diversity scholars. The $50,000 gift to UT Dallas supports the university's chapter of the National Society of Black Engineers (NSBE) and advances the Diversity Scholars Program.
Mbroh's support of future engineers comes as a long-time commitment to engineering scholars. "While in college, the NSBE student organization was an important part of my academic experience. NSBE offered me the opportunity to build relationships with like-minded engineers, learn about company opportunities and provide enriching engineering seminars," said Anthony Mbroh, PE, President of Mbroh Engineering. "NSBE provided the bridge learning between my academic studies and the practice of engineering. As a result, I became a better and more diverse engineering student."
Mbroh's $50,000 gift was made in support of UTD's Comets Giving Day, an annual giving event to fund and support campus programs. Mbroh's contribution will have major impact on students of the Diversity Scholars Program. Created in 2010, the program provides scholarships for high achieving students of diverse backgrounds who show significant financial need. To date, the program has provided funds to 200+ students.
Mbroh's support of UT Dallas programs goes beyond scholarship support. The company also provides practical education and student mentoring.
In 2019, Ronnie Spellman, Chief Operating Officer, joined the Executive Council at the Erik Jonsson School of Engineering and Computer Science to offer guidance for UT Dallas' academic program. In this collaboration, Ronnie served as a Judge for the Big Idea Competition and was a panel speaker for the Undergraduate Success Scholars. He also shares business insights as a member of the UTD Economic Development Committee.
Moving forward, Mbroh will continue to partner with UT Dallas in a blend of traditional education and practical knowledge. Executive and technical staff are regularly invited to address engineering groups hosted by UT Dallas' NSBE Chapter.
Over time, Mbroh believes that partnership and collaboration with the next generation of engineering leaders will elevate the industry and provide additional insights into private sector niche engineering. Through a combination of classroom education and practical real-world knowledge, future engineers will graduate with a higher quality set of skills to succeed in engineering and beyond. "Above all, we want to serve as a beacon of opportunity and insight with our academic community. My hope is that by establishing multi-year annual support for NSBE and partnering with UT Dallas on numerous levels, Mbroh can provide a consistent and reliable stream of additional resources needed for programming, seminars and engineering projects that complement the quality education provided at UT Dallas," said Anthony Mbroh.