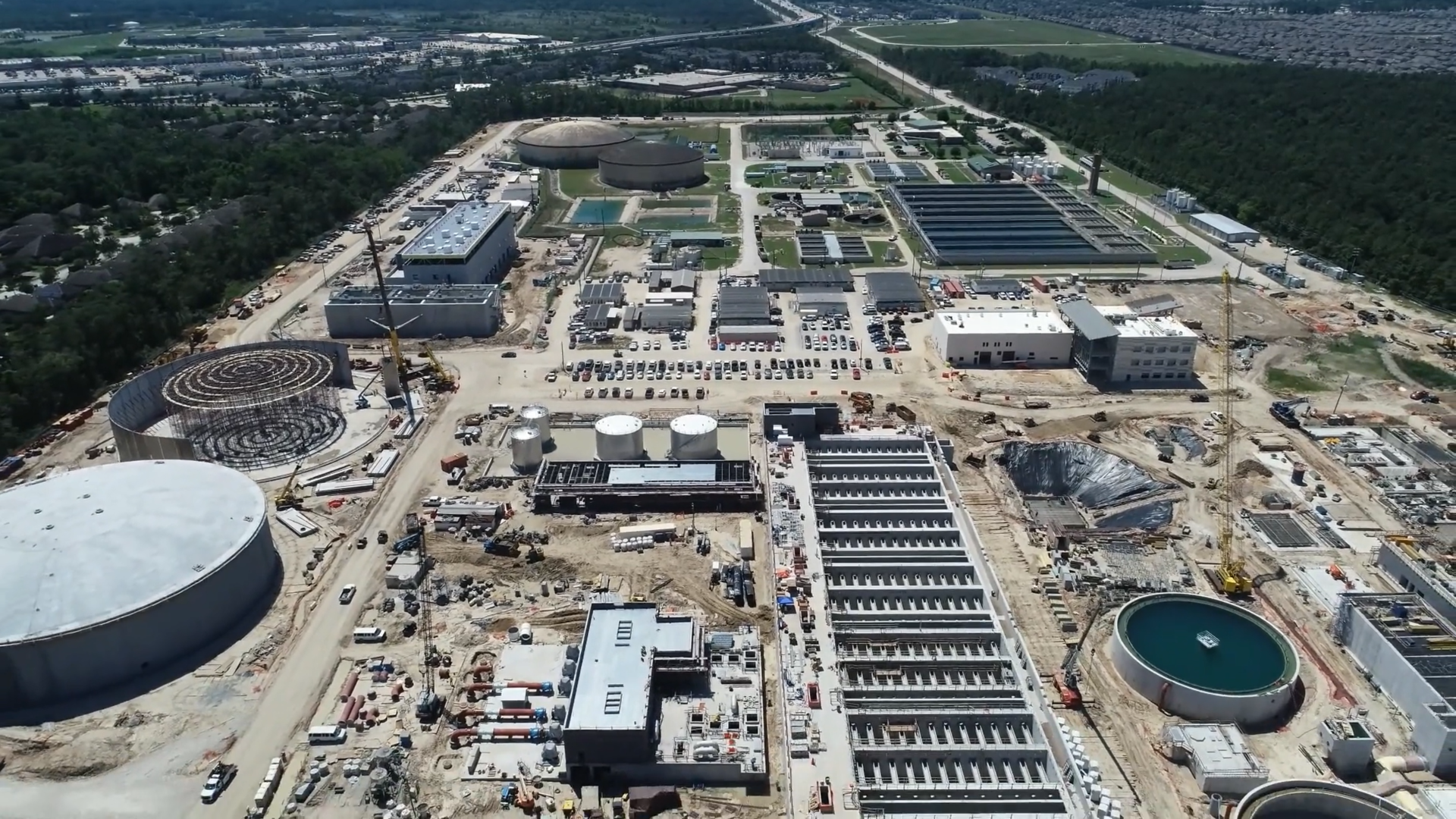 Northeast Water Purification Plant (NEWPP) Expansion Project
The City of Houston, plus four regional water authorities, is expanding the Northeast Water Purification Plant (NEWPP) from 80 to 400 MGD. This $1.77B expansion is considered the largest progressive design-build project of its kind underway in the United States, and it will provide the foundation for Houston's shift to surface water supplies.
As part of the Houston Waterworks Team (HWT), Mbroh is providing electrical engineering services, engineering services during construction, and SCADA Programming/Implementation & Commissioning services.
Engineering Design Services (2-year duration)
Mbroh's area of influence was located within the preliminary water treatment area. This process consisted of 10 chemical buildings, four rapid mix structures and four flocculation/sedimentation basins. Mbroh's engineering and design responsibilities included a power distribution system, controls system, grounding system and lighting system for each facility. These responsibilities required extensive coordination with other HWT members to design and specify the appropriate electrical equipment to support numerous chemical fill stations, chemical feed pumps, chemical metering pumps, mixers, flocculators, sedimentation drives, level transmitters, pressure transmitters, flow meters and analyzers located across the two north plants.
Engineering Services During Construction (5-year duration)
Mbroh's construction services include reviewing shop drawings submitted by the Contractor and responding to questions generated by the Contractor. Mbroh's design engineers will review each shop drawing to validate that the electrical equipment being installed by the Contractor meets all of the engineered and designed requirements. At the end of the project, once all field tests are completed and substantial completion has been achieved, Mbroh will perform a final walk-through of the plant to validate that electrical installation has met all engineering and design requirements.
SCADA Programming/Implementation & Commissioning (5-year duration)
A SCADA system is a control system architecture that consists of computers, networked data communications, and graphical user interfaces (GUI) used to monitor and control the plant from a control room environment. SCADA systems also enable the ability to automate the control of processes and equipment that would otherwise be too complex for manual human control. Through the use of instrumentation sensors and measuring devices, SCADA systems can detect abnormal parameters or alarms and automatically respond with a programmed control function. For example, if an alarm signals too much pressure in a line, the SCADA system would trigger a programmed response to open a pressure relief valve and return pressure levels to a normal amount.
Mbroh is responsible for the SCADA configuration/programming and commissioning of various area throughout the plant. Our scope of work includes the following tasks for each area:
Conduct workshops with City of Houston Operations before programming activities begin to confirm the system is homogeneous
Unwitnessed and witnessed factory testing to confirm system quality prior to field installation and testing
Provide customized training for all system components provided on this project
Largest progressive design-build project of its kind in the U.S.
Plant expansion from 80 to 400 MGD