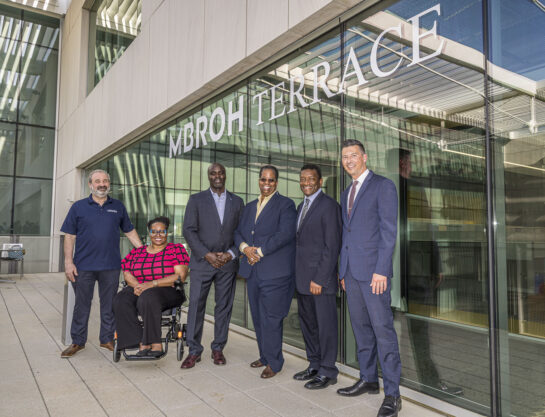 UTD & Mbroh Engineering Celebrate Terrace Unveiling
Mbroh Engineering staff, clients and colleagues gathered alongside University leadership on the University of Texas at Dallas campus for the unveiling of the Mbroh Engineering Terrace. Located in the west courtyard of the Erik Jonsson Engineering and Computer Sciences Building, the terrace is visible from many locations throughout the glass facade building and is open for use to students, faculty and staff.
Over 60 guests attended the private reception, hosted on April 20, 2022, and enjoyed networking and refreshments in celebration of the formal terrace unveiling. Opening remarks by Dr. Stephanie Adams, Dean of the College of Computer Science and Engineering, applauded the continued partnership of Mbroh Engineering in support of UTD's Diversity Scholars Program and the University's NSBE chapter. Additional guest speakers included Anthony Mbroh, PE, President of Mbroh Engineering; Dr. Yvette Pearson, Vice President of Diversity, Equity and Inclusion; and Brittany Huber, Senior Director for the Office of Development and Alumni Relations at UTD.
University leadership, Mbroh Engineering staff, and students involved in the Diversity Scholars Program and NSBE were also in attendance, as well as the first two recipients of the Mbroh Engineering Scholarship. Established in 2020, the scholarship will provide yearly scholarship support for high achieving students of diverse backgrounds who show significant financial need.
"During my college career, the diversity outreach program had a significant impact in shaping my journey into professional engineering," said Anthony Mbroh, PE, President of Mbroh Engineering. "As a college student from the inner-city, NSBE, the National Society of Black Engineers, provided me with crucial guidance and financial resources that were pivotal for my success. As a result, I became a better and more diverse engineering student, and I knew I wanted to give back when I had the financial resources to do so. Our partnership with the University of Texas at Dallas goes hand-in-hand with achieving this dream. Together, we can now support aspiring professional leaders through UTD's innovative ideas in education, academic leadership and private sector partnerships."
To read more about Mbroh Engineering's involvement on campus, navigate to additional news articles on our website: